AAR, a leading provider of aircraft maintenance and integrated supply chain solutions worldwide, has reached a significant milestone: 50 years providing exceptional component repair work in Europe. And it started in 1967 when AAR opened a component repair facility – Allen Airmotive – in Amsterdam, marking the Company's first international expansion. 
"Starting with the legacy of Allen Airmotive and Jan Van Den Berg, AAR has had an important position in Amsterdam/Hoofddorp providing component repair to airlines and militaries in the region," said David P. Storch, AAR Chairman and CEO. "I have always been impressed with the great team and spirit of the Amsterdam employees and am proud of the work we produce and the progress we have made over the years."
The Amsterdam facility and its employees have consistently received accolades, including being ranked no. 1 among all Component Source of Repair facilities by the NATO Support and Procurement Agency (NSPA) and the International Aerospace Management Company (IAMCO) earlier this year. AAR has received this prestigious recognition three times since 2005.
"The Amsterdam facility and its employees have consistently received accolades"
"I am extremely proud of the support we have been able to provide our customers through our 50 years in Amsterdam," said Ken Hein, AAR Executive Vice President, Group Operations. "I am looking forward to our team's ability to provide a quality product to our growing commercial and military customer base for many years to come."
Major renovation AAR Amsterdam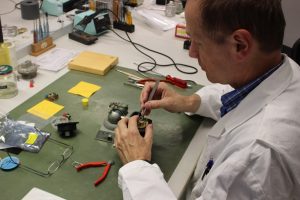 In 2016, the Aircraft Component Repair facility in Amsterdam underwent a significant renovation that more than doubled the capacity of the previous footprint. The upgrade required hiring additional personnel to work on a longer list of parts and systems. In 2013, AAR Aircraft Component Services – Amsterdam was the first private-sector organization to receive certification from the Military Aviation Authority of the Netherlands (MAA-NLD) for maintenance, a status previously held only by government and defense agencies and service providers.
"Fifty years of innovative, entrepreneurial spirit in a changing environment provides confidence in securing a better future for all employees," said Eric Bron, General Manager of the Amsterdam facility.
About AAR
AAR is a global aftermarket solutions company that employs more than 5,000 people in over 20 countries. Based in Wood Dale, Illinois, AAR supports commercial aviation and government customers through two operating segments: Aviation Services and Expeditionary Services. AAR's Aviation Services include inventory management; parts supply; OEM parts distribution; aircraft maintenance, repair and overhaul; and component repair. AAR's Expeditionary Services include airlift operations; mobility systems; and command and control centers in support of military and humanitarian missions. More information can be found at www.aarcorp.com.